Today we are speaking with Amy Kimoto-Kahn, author of the new Tuttle release, The Asian Hot Pot Cookbook. Amy is a fourth-generation Japanese American mom, wife, and private chef, and this book is a true labor of love. You can purchase it wherever fine books are sold, or right here.
Congrats on the release of your new book, The Asian Hot Pot Cookbook! Can you explain what Asian hot pot cooking is, and what drew you to this style of cooking?
Asian hot pots are found all over the world from Korea to Thailand. Hot pot cooking is a complete one-pot meal that can be customized for anyone. Hot pot cooking embodies Asian culture with its use of fresh, seasonal ingredients, delicate presentation, and the humble manner in which it is served.
I was drawn to it for its communal nature and ability to bring people together in a casual or more elevated environment. I also like that as a host, most of the work is done in the prep and you can relax with your guests and enjoy as they cook their own food right next to you.
Hot pot cooking is so versatile, yet it is deeply rooted in Asian culture and tradition. How do you stay true to that tradition while innovating with new techniques and recipes?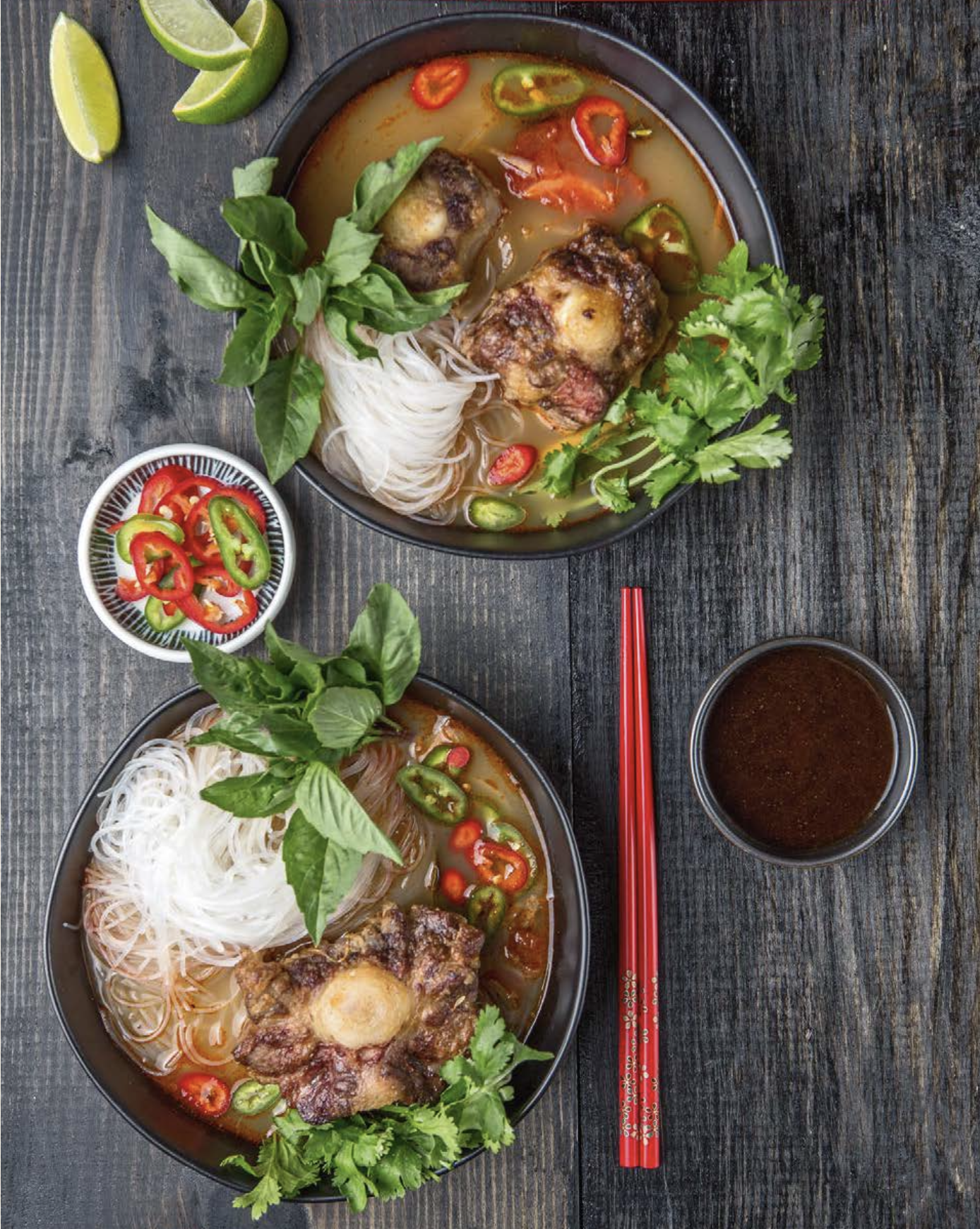 I think it's easy to stay true to the tradition of using seasonal ingredients with hot pot cooking because you can just peruse the produce section of any Asian grocery store to see what's in season. The new techniques actually make it easier to make hot pot at home. There are many portable gas and induction burner options online now and modern split hot pot bowls that make it easy to offer spicy and non-spicy options.
Asian ingredients are diverse, and your book includes recipes from several different communities. What are your favorite ingredients to creatively combine and work with?
Any sort of fresh/seasonal vegetable (napa cabbage, bok choy, negi and regular green onion) as well as different varieties of tofu (firm, silken, tofu skin), rice (brown, sticky, japanese, jasmine), noodles (soba, ramen, udon) and so many different mushrooms (shiitake, enoki, buna shimeji, wood ear, oyster, maitake).
Your book does a great job of making Asian cooking so accessible! Have you ever been intimidated when trying new cooking techniques? How would you help people get past the intimidation so they can approach cooking with confidence?
I do get intimidated trying to cook dishes outside of my own ethnic background, but as soon as someone shows me how they do it or I watch how they make it, I'm much more comfortable and then I try it on my own. I enjoy hearing advice passed on from generations and the little tricks and secrets that cookbooks don't tell you. I think hot pots are one of the easiest dishes to make because most of the ingredients are readily available, even at non-Asian supermarkets.
I wouldn't feel intimidated because I want my readers to know that you don't have to follow my recipes to a T. I recommend substitutes and you can have fun with making your own version of hot pot. Whether you're getting your ingredients from an Asian grocery store, a farmer's market on the weekend or at your local grocery store, you can find what you need to make a tasty hot pot any time. And there are some simple starter broths like my Basic Dashi Stock or my Basic Shabu-Shabu Broth that only have a couple ingredients. It's not about making it perfect, it's about trying new ingredients and learning about someone else's culture through food.
As a mom, are there any recipes you would suggest for parents who are introducing new flavors to their kids?
I love my Beef Curry Hot Pot because it showcases savory Indian flavors like garam masala and curry with highlights of ginger, garlic and onion. It has a very small amount of espresso powder which gives it a deeper flavor and also balances itself out with soy sauce, dark brown sugar and tomato paste, so kids like that it's very comforting and stew-like.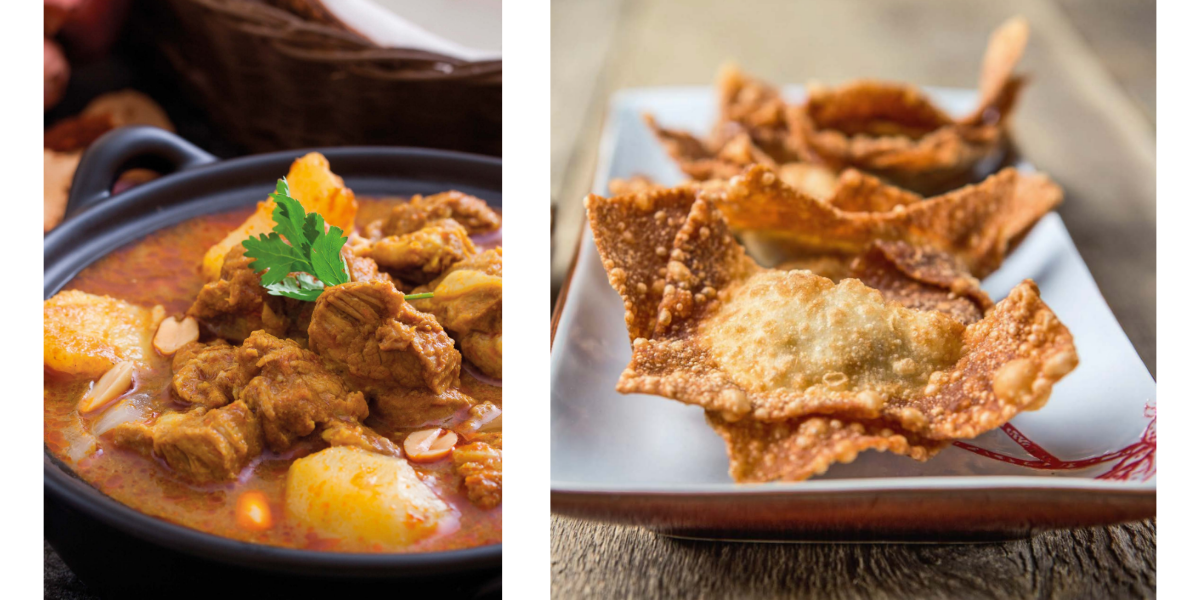 One of my most asked for side dishes are my Mom's Crispy Pork Wontons. This recipe has shrimp, ground pork, water chestnuts, scallions, ginger and shiitake mushrooms - all of which kids might not like individually but blended together for the wonton filling, it's savory, salty, sweet and crunchy. And it's easy for them to help make the wontons which I've found makes them want to try it!
You draw a lot of inspiration from the places you've traveled to and lived in. How does location influence the dishes you create and the flavors you incorporate?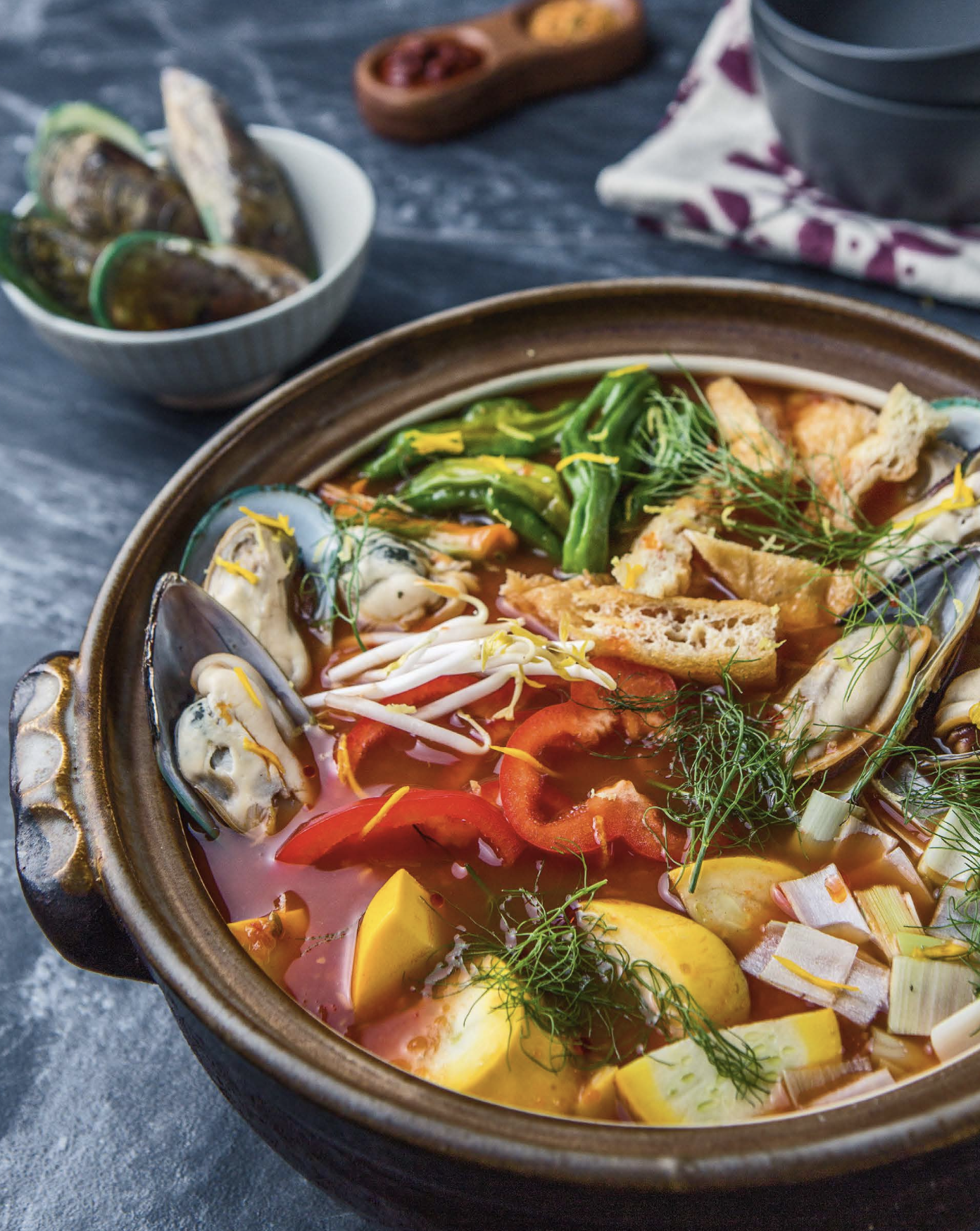 I'm inspired and influenced by everything! From the spices and local ingredients that are used when I travel, to eating at friends' houses with varying backgrounds that make their own special dishes (especially the secret family recipes), to trying new street food, to dining at a Michelin star restaurant – I am always learning new ways to prepare and present food that I hadn't thought of before.
I always try to go to the local farmer's market of any place I visit in order to see what's grown locally, talk to the people and ask questions. I look at the spices in the grocery stores of the different places I've traveled to see if I've heard of them before — and if not, I buy them. If I have something really incredible at a restaurant, I'll ask how they make it. And I'm always challenged as a private chef when I'm asked to cook with certain dietary requirements which forces me to get creative with ingredients.
A lot of your recipes tell a story. Do you have any favorite stories in the book, or ones that make you feel especially nostalgic? Can you expand on any of them? (Details!)
More on this below, but the reason why my mom formed her own group of Japanese women ("The Dames") when she was at USC was because after the war, she was not allowed to join a sorority due to post-war prejudice. Her and my father's families were both interned during WWII. I think it's wonderful that out of adversity, they were able to make their own club that taught me so much, and allowed them to pass on their legacy of cooking and hosting with the rest of the world in their cookbook and through their children.
It was an embarrassing time in U.S. history, but it has taught my family the meaning of resilience, hard work, ambition, persistence, perseverance and pride in our culture for handling racism with such grace.
In honor of Women's History Month, who are the women who have most influenced you in your work as an author, chef, and businesswoman?
Growing up, my mom had a group of Japanese women friends that called themselves "The Dames." These were my non blood related "aunties," and they were the Martha Stewarts of their time. They hosted elaborate gourmet evenings and when my mom hosted, my siblings and I helped prepare, serve and clean. This is where I learned all about Japanese cooking as well as how to be an elegant host. They have their own cookbook that is sold at the Japan American Museum in Los Angeles and was my inspiration to have my own cookbook one day.
Can you recommend any other books to our readers that pertain to Asian cooking?
Everyday Harumi - Simple Japanese Food for Family & Friends
The World's Best Asian Noodle Recipes - 125 Great Recipes from Top Chefs
Ivan Ramen - Love, Obsession and Recipes
Burma Superstar - Addictive Recipes from the Crossroads of Southeast Asia
Nom Nom Paleo - Food for Humans
Thanks, Amy! We really appreciate this conversation and these thoughtful answers about your new Tuttle release! Are there any upcoming projects you can tease for us?
I'm working with Bon Appetit Management right now to tour the US during AAPI Month in May. Super excited to do ramen and hot pot takeovers at universities and corporations all over the country as well as offer in person and online classes. I'll put the schedule up on my events on my website when I get them!
---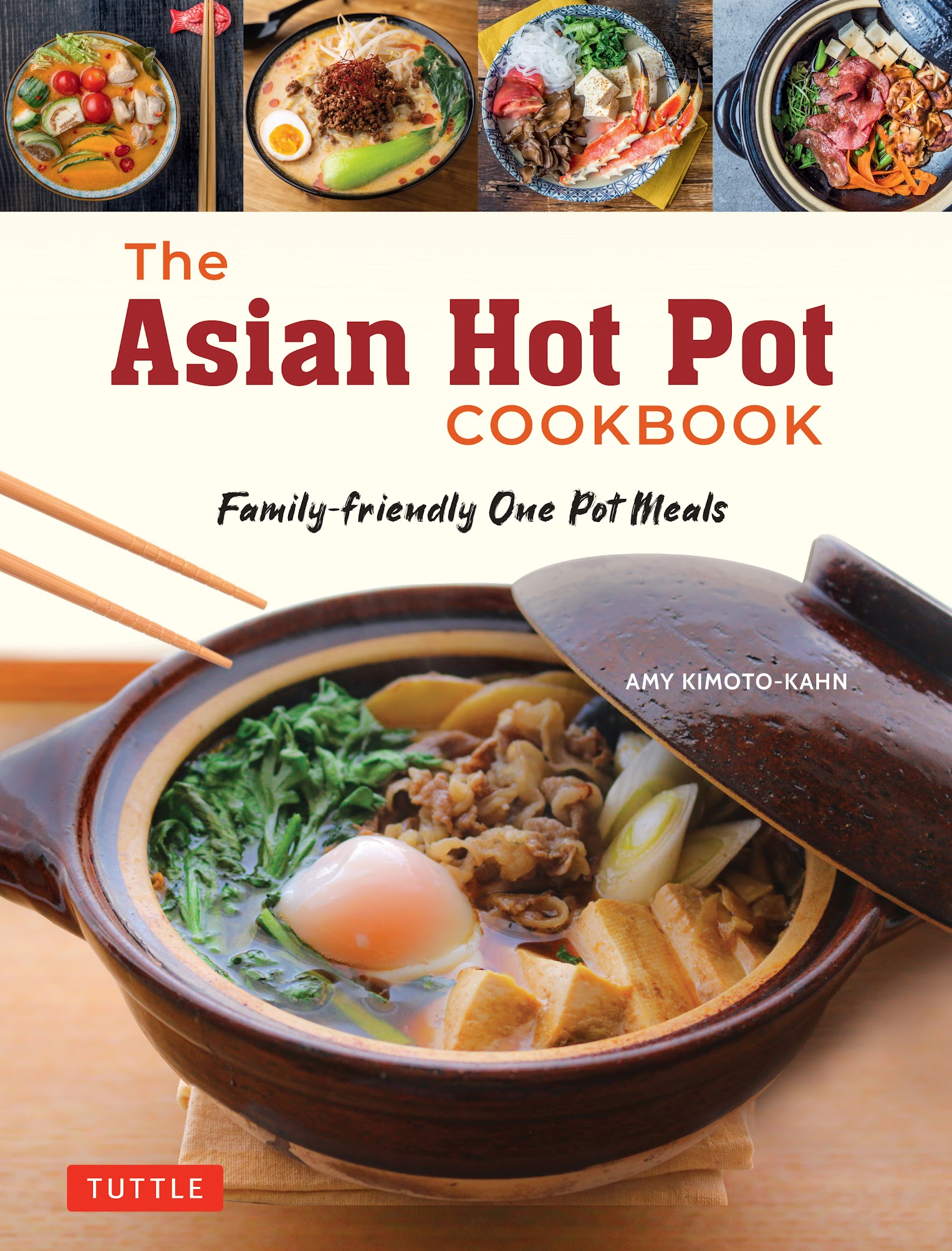 Gather your family and friends for the ultimate communal dinner! Hot pots have long been a cornerstone of home-cooking — a one pot meal, shared at the table, with family and friends. In this book you'll find a wide variety of recipes for broths and sauces, along with complete recipes for Asian-style hot pots from Japan, Korea, Thailand, Vietnam and more!