It's Asian Pacific Heritage Month, and we are sharing books and interviews from some of our amazing AAPI authors here on the blog. Today we have Nancy Matsumoto, who is a food journalist with a focus on sake. She is also the co-author of Exploring the World of Japanese Craft Sake, which releases today!
Since it's Asian Pacific Heritage Month, we'd be honored to hear about your own experience and background as a Japanese American. Tell us a little bit of your story.
Thank you for asking! I am a third-generation Japanese American, born in Chicago and raised in Los Angeles. I am not a native Japanese speaker, but lived in Japan for several years and worked as a journalist there.
Turning to the book, how did you first get interested in Japanese sake? Do you remember the first time you tried it?
I was unaware of sake as a delicious craft beverage until I began writing about the New York City sake scene about ten years ago. Before that, like a lot of people, I was only familiar with average Japanese sake served from heating dispensers at Japanese restaurants in America. When I began writing about it, suddenly I was learning from passionate bartenders, sommeliers and sake importers, and tasting really wonderful products. It was impossible not to fall in love with sake!
Tell us about your extensive work as a food journalist, and how you developed a focus on covering craft sake.
For many years I wrote about all kinds of subjects: food, drink, the arts, and human interest profiles. Writing about food and drink, especially Japanese food and drink, was always especially interesting to me because I love to cook, eat, and drink, and because of my own Japanese heritage.
What made you want to publish your knowledge of craft sake in book form, alongside co-author Michael Tremblay?
When Michael and I met through our shared love of sake, we thought that our skills would be complementary—he loves to geek out about sake rice and yeast varieties, make beautiful infographics, and he is a talented sake educator. I like to tell people's stories. The opportunity to delve into the minds of some of the best sake makers working today was hard to resist. It was our combined skills that enabled us to make such a unique and fun book. It's part travelogue, part sake education handbook, and part compelling artisan portraits, and it's unlike any other sake book out there.
Tell us about the process of researching the book, including your deep dive into sake's long history and your visits to 35 sake breweries. What impacted you the most along the way?
The three research trips to Japan that we took really were dream opportunities. We had lots of one-on-one time with brewers and brewing families, who generously threw open their doors to us. I particularly liked how these conversations illuminated the connection between sake and history, religion, politics, and culture of Japan. We try to convey those rich histories and connections in our book.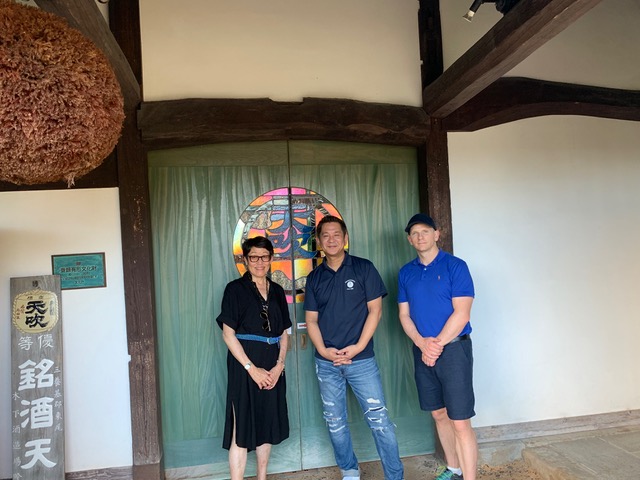 What was it like to collaborate with Michael? How did your process work?
We had a good back and forth. Michael, through his work directing the beverage program at Ki Modern Japanese + Bar, had relationships with a number of breweries, and I had separate relationships with certain researchers and brewers, so we could both call on these contacts to make our itinerary. Most of the interviews were conducted in Japanese and I translated for Michael. The beautiful infographics are all Michael's, and I took the lead on writing.
Much of your book goes into scientific detail, breaking down each element of the beverage. How did you obtain that level of scientific information?
These were perhaps the hardest, most painstaking parts of the book to create, so thank you for asking. Michael's infographics do a great job of explaining complicated science in easy-to-understand visuals. The narrative scientific parts involved a lot of emailing back and forth with sources. Often I would ask the brewers or scientists to write to me in Japanese, and I would write back to them in English. This sped up the process, but it still involved learning a lot of new scientific terms in Japanese, and checking and double-checking to make sure I was getting the science right. This was especially true in the yeast and mold chapters. Luckily our subjects were very generous with their time.
If you could pick one variety of sake to recommend to a novice, what would it be and why?
I would say start with a good tokubetsu junmai. These aren't always the most highly polished and aromatic sakes, which many sake fans consider to be the pinnacle of the brewer's art. But they are representative of some of the more interesting trends in sake: old-fashioned kimoto and yamahai brewing methods, lower polishing ratios, and even different polishing styles. These sakes also tend to be extremely food friendly.
Broadly speaking, what do you hope readers take away from this book?
I hope they come away feeling like they've been on a fun adventure, and that they understand what sake is, and how it evolved from its fascinating origins in ancient Japan. I hope they'll be familiar with some of the trends in sake related to heirloom and hybrid rice varieties, or new yeast and mold types. Like a good vacation, I hope they're left with memories of meeting fascinating, quirky, and passionate craftspeople along the way. And finally, I hope our book whets their appetite to drink lots of different sakes and travel to Japan to experience sake culture up close!
Can you tease any upcoming projects?
Yes, I am currently working in collaboration with a great designer to resolve final lay-out and design issues for an English-language translation of a book Japanese tanka poetry that my grandparents published in 1960. What started as a family passion project has morphed into a much larger project involving an amazing team of scholars and translators. This, too, has been an incredibly rewarding project. Titled By the Shore of Lake Michigan, the book covers my mother's and grandparents' incarceration in a World War II U.S. government prison camp and their post-war life in Chicago. It will be published by UCLA's Asian American Studies Center Press later this year.
Finally, in the spirit of Asian Pacific Heritage Month, who are some other AAPI authors whose work has impacted you?
Wow, there have been so many. To name a few writers and books I've loved reading recently, Katie Kitamura's Intimacies; Cathy Park Hong's Minor Feelings; Min Jin Lee's Pachinko; Raj Patel's Stuffed and Starved; Rupa Marya and Raj Patel's Inflamed; Mieko Kawakami's Breast and Eggs; Yo-Yo Ma's Beginner's Mind; Charles Yu's Interior Chinatown; Susan Choi's Trust Exercise; Viet Thanh Nguyen's The Refugees; Hanya Yanagihara's A Little Life; and Julie Otsuka's When the Emperor was Divine. This is not a recent read, but an important book that I hope all mixed-race Asians will read is Stephen Murphy Shigematsu's When Half is Whole. It's a beautiful meditation on mixed-Asian identity. Oh, and I'm really enjoying cooking from Eric Kim's new book, Korean American: Food That Tastes Like Home!
---
Be sure to purchase Exploring the World of Japanese Craft Sake by Nancy Matsumoto and Michael Tremblay — wherever fine books are sold!
"This sake book, woven like a road-movie, will be a landmark in the contemporary world of Japanese sake." — Gen Yamamoto, bartender/owner, Bar Gen Yamamoto, Tokyo